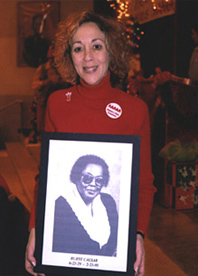 In 1994, Roz Weiss and her chiropractor husband, Dr. Don Weiss, had the idea of providing a special day of joy at holiday time for children in need. After being turned down by many organizations, Roz contacted Rubye Caesar, a woman who was dedicated to supporting children in need living in North Philadelphia. Together they hosted the first holiday party. Seventy-five children from a local elementary school received a hot meal, a gift, lots of attention and plenty of love! The Weisses and Rubye planned to have another party the following year. However, in February of 1995, Rubye passed away suddenly. In Rubye's memory, Roz named the event Rubye's Kids Holiday Party. The holiday party grew to include 500 children from 12 schools and 4 homeless shelters in Philadelphia. It was a spectacular event held at Girard College. The children received a hot lunch and a gift and, in addition, a book of their choice, school supplies, t-shirts and numerous other give-a-ways. They had a day of fun and entertainment–activities, a carnival, music, face-painting, clowns and more–and they were surrounded by volunteers offering them unconditional love. The smiles on the children's faces were a gift to all who participated.
After 25 years, we brought the party to the children! Over the next three years we selected a different Philadelphia elementary school each year and hosted a Rubye's Kids Holiday Party on site.
In 2019 Covid-19 brought everything to a screeching halt. We found a new way to continue to make the holiday special for children living in shelters and others in need. We filled our Red Rubye's Kids Bags with the items that the children received at the party; a toy, hat, gloves, school supplies, art supplies, toothbrush, toothpaste, culturally appropriate book, holiday socks, positive affirmation pillowcase, candy cane, and other fun gifts and distributed them to shelters and community centers serving children in need for the holidays.
Because there is such great need, especially for children living in homelessness, we have expanded our horizons and are helping children all year long, with COVID consciousness. Rubye's Kids, Inc. starts in January with a Martin Luther King, Jr. Duffle Bag Project, that offers children entering the shelter system: a duffle bag, a fluffy pillow with a positive affirmation pillow case and essential toiletries to ease the transition from their home to a shelter. Our newest project, Kozy Kids provides cozy pajamas, a warm blanket, a washcloth, a towel, and a beanie baby for children living in homeless shelters during the months of February and March. Last year we implemented our Spring Initiative that includes an insulated water bottle, baseball hat, sunglasses, sunscreen, and an umbrella, all packaged in a drawstring bag in preparation for summer programs. Our Summer Enrichment involves Rubye's Kids financial sponsorship of camp and local field trips, as well as new equipment and supplies, for children in shelters during the summer to keep them safe, flourishing, and occupied. Through our Back to School Backpack Project, sturdy backpacks filled with quality school supplies have been given to thousands of children in shelters. We provide hundreds of new winter coats for shelter children each season. We have created Rubye's Kids Learning Centers with computers, books and brightly-colored furniture in seven homeless shelters over the years, and when the need is there, we plan to create more.
All this is accomplished by our all-volunteer working board. Rubye Caesar's spirit lives on and continues to inspire us, and we need your help to perpetuate our programs. We are always in need of volunteers as well as financial donations.
As Mother Teresa said, "We can do no great things, only small things with great LOVE." We hope you'll join us in spreading the love–Rubye's own great love for children–as we work to reach more of the little ones who need us the most!